Saturday, December 19, 2009
Welcome to my blog!!! I am so excited about this new adventure in blogging. This is going to be a fun way for me to share with all of my friends and family what is happening in the Corina's Closet sewing room. Of course I will have to include pictures of the things that I create especially for my sweet Corina as well as some of our silly projects. I will also post new clothing lines and ideas that are for sale on my ETSY site,
www.corinascloset@etsy.com
and available at The Adorable Child. Thank you for joining me on this creative journey.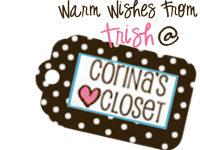 Posted by Trish
at 8:49 AM
0 comments